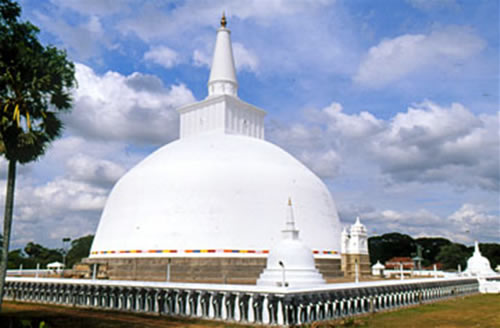 Ruwanwelisaya is the one of the world tallest stupa, located in sacred city of Anuradhapura. It was built by king Dutugamunu (140 B.C).It is standing at 103 m (338 feet)with circumference of 290 m (950 feet) Ruwanwelisaya is one of the 8 places of veneration in the Anuradhapura. The Buddha's relics has been deposited in this sacred stupa. Ruwanwalisaya is called various names such as Swarnamali Chaitya, Mahathupa, Suvarnamali Mahaceti.
Today, after incurring much damage from invading Indian forces, it rises 55m, considerably less than its original height; nor is its form the same as the earlier 'bubble' shape. Its lowest circumference is usually wrapped in a strip of dazzlingly coloured cloth.
Ruvanvelisaya was commissioned by King Dutugemunu, but he didn't live to see its completion. However, as he lay on his deathbed, a false bamboo-and-cloth finish was placed around the dagoba so that Dutugemunu's final sight could be of his 'completed' masterpiece. A limestone statue south of the great dagoba is popularly thought to be of Dutugemunu.
The land around the dagoba is rather like a pleasant green park, dotted with patches of ruins, the remains of ponds and pools, and collections of columns and pillars, all picturesquely leaning in different directions. Slightly southeast of the dagoba you can see one of Anuradhapura's many monks' refectories. Keeping such a large number of monks fed and happy was a full-time job for the lay followers.